All Roads Lead Here
With unsurpassed connections to commuter rail service, the subway system, the West Side Highway, the Lincoln Tunnel, and ferries along the Hudson River, Hudson Yards is at the center of the metropolitan region.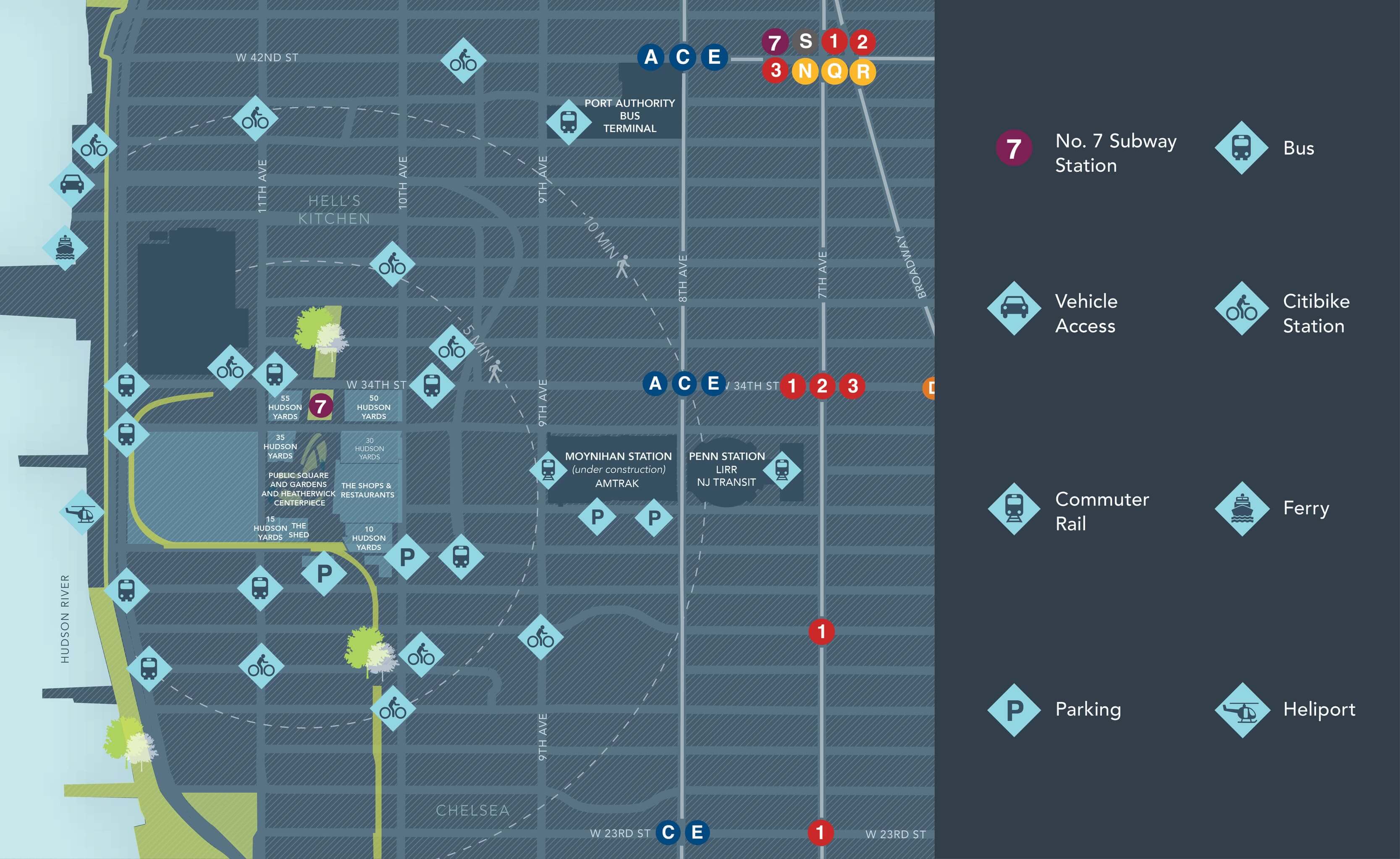 How to Get Here
Hudson Yards is located between 10th and 12th Avenues from West 30th to West 34th Streets.
MTA New York Subway
The No. 7 Subway is the main conduit to and from Hudson Yards. It connects to Times Square and beyond from an eye-catching new station, located steps from the east lobby across Hudson Park. 
MTA Bus Lines
The M34-SBS, M12 & M11 bus lines stop near the building.
Rail
Penn Station is just 2 blocks east between West 31st and West 33rd Streets and 7th and 8th Avenues. MTA Subway: A, C, E, 1, 2, and 3 Rail: Amtrak, LIRR, New Jersey Transit, PATH Buses: M4, M5, M6, M7, M34 and Q42
Ferry
The Midtown ferry terminal is at West 39th Street and the West Side Highway.
Car/Parking
Drivers can park at 10 Hudson Yards, Abington House, and One Hudson Yards, which are all along West 30th Street between 10th and 11th Avenues. To view neighborhood parking garages and special offers here. 
Taxi / Black Car 
The best places for taxi pick up and drop off are by 10 Hudson Yards (10th Avenue and West 30th Street), 30 Hudson Yards (10th Avenue and West 33rd Street) as well as 55 Hudson Yards (West 34th Street and 11th Avenue).
Air
The Air Pegasus Heliport is at West 30th Street and the West Side Highway.
Bike
Hudson River Park along the West Side Highway offers the best approach for bikers, north or south. The nearest CitiBike station is at the Northwest corner of West 34th Street and 11th Avenue. Daily bike storage is available on site.
Valet
Valet service is available at Hudson Yards, located on Hudson Blvd. in front of The Shops & Restaurants at Hudson Yards and on Hudson Way in front of Equinox Hotel. For hours of operation and pricing, please see full details here.