Related and Oxford Unveil 50 Hudson Yards Designed by Renowned Architecture Firm Foster + Partners
BlackRock to Move Global Headquarters and Anchor New York City's Newest Trophy Office Tower.
NEW YORK, NY – December 8, 2016 – Related Companies and Oxford Properties Group today unveiled the design for 50 Hudson Yards, the city's newest trophy office tower located on Manhattan's West Side. Designed by renowned architecture firm Foster + Partners, the 2.9 million gross square foot building will be New York City's fourth largest commercial office tower and home to BlackRock (NYSE: BLK), the world's leader in investment management. BlackRock has entered into a letter of intent to lease 850,000 square feet across 15 floors and move its global headquarters to 50 Hudson Yards. The building is expected to open in 2022.
"Spanning an entire city block, 50 Hudson Yards, designed by Foster + Partners, offers global businesses 21st century office space and a park-front address in New York's fastest-growing business district. Hudson Yards is a dynamic mixed-use environment with the best of shopping, open space, living and working all in one place and the pace of commercial leasing is a testament to the success of the new neighborhood," said Jeff T. Blau, CEO of Related Companies. "BlackRock is one of the world's most trusted investment firms and known for its forward-thinking leadership team. Their decision to relocate after nearly three decades on and around Park Avenue is another strong vote of confidence in our collective vision for Manhattan's West Side. They will join an unprecedented collection of global influencers in media, fashion, beauty, tech, law and finance at Hudson Yards."
Over 5.8 million square feet of office space is currently under construction or completed at Hudson Yards with 88 percent committed. The retail space, opening in 2018, is already nearly 60 percent leased. Construction on 50 Hudson Yards will begin in 2017.
Blake Hutcheson, President and CEO of Oxford Properties Group, said: "Welcoming BlackRock to Hudson Yards is a milestone bigger than any one building or development. It is a ringing endorsement for Manhattan's West Side as the epicenter of commerce, culture and community. We believe there is no better tenant to anchor 50 Hudson Yards than BlackRock; and in turn no better location for global leaders than Hudson Yards."
Rob Goldstein, COO for BlackRock, said: "We're proud to have our name on the marquee of our future home, 50 Hudson Yards. BlackRock's roots trace back to eight co-founders with the idea for a technology-driven asset manager based in New York City. More than twenty-five years later, we are thrilled to be participating in one of the most innovative real estate projects in the City's history. This state-of-the-art building will be equipped with the design, technology and resources to attract and retain the best talent in the industry to serve our clients. The quality of the environment Related and Oxford are creating have made us very excited about putting new roots down in Hudson Yards."
The LEED Gold-designed, 58-story building will stand at the northwest corner of 33rd Street and 10th Avenue. With access points on all four sides and the subway concourse below, 50 Hudson Yards will offer both convenient entry points for employees and an opportunity for each tenant to create a distinct identity. Upon arrival, BlackRock employees will enjoy their own dedicated elevator entrance off of 10th Avenue.
Spanning an entire city block and standing 985 feet tall, the building will offer its marquee tenants private sky lobbies, outdoor terraces, and executive valet parking and drop off in a private porte-cochère. Employees will also benefit from onsite bike storage and concierge services; connections to the one million square foot Shops & Restaurants at Hudson Yards and the outdoor observation deck located at the top of 30 Hudson Yards; and a direct connection to the No. 7 Subway, allowing for an easy commute from Grand Central.
50 Hudson Yards is an upright campus on Manhattan's West Side, stacking three distinct blocks of commercial space one atop the other. Outlined with pure white stone cladding, each block is separated by the dark banding of the floors behind fully glazed façades. The staggered blocks illustrate the changing scale of the floorplates, with the set-backs creating external terraces that have spectacular views in all directions. The east and west sides of the tower are broken into four-story glass boxes framed by white stone, with glass framing the cityscapes. Accentuating the verticality of the building on the north and south façades, the upright structural elements are also clad in white stone. The building's peak will be capped by a "halo," adding a new glow to the New York City skyline when lit at night.
"50 Hudson Yards is a key part of a larger vision that integrates places to live and work within a dense, walkable urban neighborhood," said Norman Foster, Executive Chairman and Founder of Foster + Partners. "Covering a full city block, the building is highly permeable at ground level, allowing it to engage fully with its urban location. Designed for a sustainable future, the building makes an important contribution to the regeneration of the far west side of Manhattan."
The interior design of 50 Hudson Yards is defined by its large, column-free floorplates spanning at least 50,000 square feet throughout the building. One of only a few buildings on Manhattan's West Side able to accommodate 500-plus people on each floor, 50 Hudson Yards was designed to house large enterprise tenants and trading and amenity spaces as well as smaller companies and organizations.
"50 Hudson Yards is envisaged as a vertical campus in the heart of Manhattan that is eminently readable at city scale with three distinct blocks stacked one above the other," said Nigel Dancey, Head of Studio for Foster + Partners. "Crafted from a simple palette of white stone and glass, the building's primary structure has been pushed to the edges to create large-span flexible floorplates. It aspires to define the workplace of the future, bringing to the fore the practice's values of innovation and creativity by producing a positive work environment that seeks to fulfill the needs and expectations of a demanding workforce."
Peter Riguardi, Kenneth Siegel, Matthew Astrachan and Joseph Messina from JLL are representing BlackRock in the transaction, and Stephen Winter of Related represents the ownership group.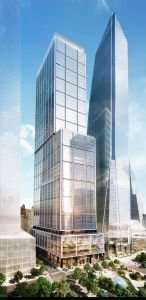 50 Hudson Yards with 30 Hudson Yards and the No. 7 Subway – courtesy of Related-Oxford
###
ABOUT HUDSON YARDS:
Hudson Yards is the largest private real estate development in the nation's history. The site itself will include 18 million square feet of commercial and residential space; more than 100 shops and restaurants, including New York City's first Neiman Marcus and signature restaurants by Chefs Thomas Keller, José Andrés and Costas Spiliadis; approximately 4,000 residences; 14-acres of public open space; a new 750-seat public school and an Equinox® branded luxury hotel with more than 200 rooms – all offering unparalleled amenities for residents, employees and guests. Once fully operational, the development will contribute nearly $19 billion annually to New York City's Gross Domestic Product (GDP), accounting for 2.5 percent of the citywide GDP. It will also contribute nearly $500 million annually in City taxes. Companies and buildings at Hudson Yards will bring 55,752 direct jobs to the new West Side neighborhood.
Ten Hudson Yards – home to Coach Inc., L'Oréal USA, The Boston Consulting Group, German software engineering firm SAP, VaynerMedia, Intersection and Sidewalk Labs – opened in May. Sales for the 285 residences at 15 Hudson Yards launched in September. Fifty-Five Hudson Yards, home to Boies, Schiller & Flexner; Milbank, Tweed, Hadley & McCloy LLP; Point72; and MarketAxess will open in 2018. The one million square foot retail center, 5-acre Public Square and Gardens and Vessel will open in the fall of 2018, followed in 2019 by 30 Hudson Yards, home to Kohlberg, Kravis & Roberts (KKR), Wells Fargo Securities, Time Warner, CNN, HBO, Turner Broadcasting, Warner Bros., and DNB Bank, and the site's mixed-use tower, 35 Hudson Yards.
For more information about Hudson Yards and for high resolution images and renderings, please visit HudsonYardsNewYork.com.
ABOUT BLACKROCK:
BlackRock is a global leader in investment management, risk management and advisory services for institutional and retail clients. As of September 30, 2016, BlackRock's AUM was $5.1 trillion. BlackRock helps clients around the world meet their goals and overcome challenges with a range of products that include separate accounts, mutual funds, iShares® (exchange-traded funds), and other pooled investment vehicles. BlackRock also offers risk management, advisory and enterprise investment system services to a broad base of institutional investors through BlackRock Solutions®. As of September 30, 2016, the firm had approximately 13,000 employees in 30 countries and a major presence in global markets, including North and South America, Europe, Asia, Australia and the Middle East and Africa. For additional information, please visit the Company's website at www.blackrock.com | Twitter: @blackrock_news | Blog: www.blackrockblog.com | LinkedIn: www.linkedin.com/company/blackrock
ABOUT RELATED COMPANIES:
Founded more than 40 years ago, Related Companies is a fully-integrated, highly diversified industry leader with experience in virtually every aspect of development, acquisitions, management, finance, fund management, marketing and sales. The Company has $50 billion of real estate assets owned or under development including best-in-class mixed-use, residential, retail, office, trade show and affordable properties in premier high-barrier-to-entry markets. Headquartered in New York City, Related has offices and major developments in Boston, Chicago, Los Angeles, San Francisco, South Florida, Washington, D.C., Abu Dhabi, London, São Paulo and Shanghai, and is well-known for having developed the 2.8 million square foot Time Warner Center in New York City and the 72-acre CityPlace in West Palm Beach as well as being a leader in green building. For more information, please visit www.related.com
ABOUT OXFORD PROPERTIES GROUP:
Oxford Properties Group is a global platform for real estate investment, development and management, with approximately 2,000 employees and over $40 billion of real assets that it manages for itself and on behalf of its co-owners and investment partners. Established in 1960, Oxford has regional offices in Toronto, London and New York, and the company's portfolio includes approximately 56 million square feet of office, retail, industrial, multi-family and hotel properties. Oxford is the real estate arm of OMERS. For more information, please visit www.oxfordproperties.com
###
CONTACTS:
Related Companies:
Joanna Rose
212.801.3902
[email protected]
[email protected]
BlackRock:
Ed Sweeney
646.231.0268
[email protected]