Hudson Yards Will Offer 25 Restaurant And Food Concepts Including A 35,000-Square-Foot Spanish Culinary Experience At Manhattan's Newest Dining Destination
Concepts from David Chang, Juan Santa Cruz and Michael Lomonaco to join D&D London, Thomas Keller and Costas Spiliadis at New York City's Newest Neighborhood and Global Culinary Hub
José Andrés Enlists Chefs Ferran and Albert Adrià in his Joint Venture with Related and Oxford to Create Game-Changing Spanish Dining and Market Destination
NEW YORK, NY – Related Companies and Oxford Properties Group today announced the latest chefs and restaurateurs that will be a part of a collection of approximately 25 restaurant and food concepts at Hudson Yards, Manhattan's newest neighborhood spanning 28 acres on the city's West Side. Opening in 2019, diners will enjoy signature restaurants including Chef Thomas Keller's classic American restaurant, a new concept from David Chang's Momofuku, Chef Costas Spiliadis' Greek seafood restaurant Estiatorio Milos, a modern brasserie concept from D&D London, and an American Grill concept from Chef Michael Lomonaco. And in partnership with Related Companies and Oxford Properties Group, José Andrés' ThinkFoodGroup will debut a unique new Spanish concept in late 2018, representing a long-awaited creative collaboration between Andrés and brothers Ferran and Albert Adrià.  This 35,000-square-foot gathering place, celebrating all things España, marks the Adriàs' first U.S. endeavor and creates an incomparable culinary trifecta that will ensure this destination is like no other.
In 2019, the first U.S. restaurant from Juan Santa Cruz' Santa Cruz Co. will join the collection and anchor 35 Hudson Yards, home to residences and the inaugural Equinox® Hotel. Additional eateries will be unveiled throughout the coming year.
The Hudson Yards restaurant collection will be housed primarily in the one-million-square-foot Shops & Restaurants, anchored by Neiman Marcus and designed by Elkus Manfredi Architects. Andrés' Spanish concept will anchor 10 Hudson Yards just under the High Line. Additional restaurants are planned for 35 Hudson Yards and 50 Hudson Yards, and other cafés and fast-casual offerings will be located at 55 Hudson Yards, 50 Hudson Yards, 10 Hudson Yards and the pavilion in the Public Square and Gardens. The collection will include signature restaurants designed by world-class architects and designers, as well as eateries and best-in-class quick service locations including Bouchon Bakery and Jack's Stir Brew Coffee. These concepts will range in size from 350 sq. ft. to 16,000 sq. ft., and offer a variety of cuisines and experiences morning to night throughout the new neighborhood. Several of the restaurants will offer outdoor dining. Co-curated by Chef Keller and Related Urban President and CEO and restaurateur Kenneth A. Himmel, the full collection will establish Hudson Yards as a global culinary destination.
"Exceptional dining experiences are extremely important in curating not only the restaurant collection, but the new neighborhood we are creating, and we are thrilled with the caliber of chefs and restaurateurs that will be coming to Hudson Yards. These chefs and restaurateurs represent the most creative and visionary leaders both in this industry and around the world," said Kenneth A. Himmel, restaurateur and President of Related Urban, the mixed-use division of Related Companies. "Our approach went well beyond just selecting the best chefs and restaurateurs, we wanted to ensure we offered a diverse array of global cuisine and experiences that catered to our residents, employees and visitors' lifestyles. Everything from your morning coffee and pastry to weekend brunch, happy hour and late-night dining will be available at Hudson Yards – all offering unique experiences. Hudson Yards is sure to become Manhattan's newest and most unique culinary destination."
Chef Thomas Keller said, "We've been working for over two years to develop a varied collection of experiences and cuisines within Hudson Yards, a neighborhood destination that will serve New Yorkers and visitors alike. With some of today's most compelling chefs and restaurateurs on board, I'm excited to be part of such an inspiring space that represents the future of New York City."
Chefs Andrés and Adriàs' Spanish culinary extravaganza will be a dynamic, all-day, indoor-outdoor destination for Spanish food, drink and culture as imagined through the inimitable creative lens of these three culinary innovators – a fresh, unprecedented take on the food hall concept featuring the very best that Spain has to offer.  Nestled under the High Line, the sprawling space will offer guests the chance to indulge in a world-class tapas bar, buy the best Spanish jamon or olive oils, share a wood-fired paella or take a heady selection of Spanish delicacies to go – all in one place.
Andrés said, "I've dreamed of opening in New York since I first came here as a boy of 19! And I cannot wait to tell the story of Spain to my adopted home of America in this iconic new neighborhood. And to do this with my friends, my mentor Ferrán and his brother Albert…such an honor and so much fun! Hudson Yards is the perfect confluence of retail, restaurants, chefs, beautiful buildings and architects that all tell a connected story. I am so excited to be coming to this new Hudson Yards neighborhood and help make this big dream happen."
Added the brothers Adrià, "We have long wanted to find an official way to create magic with José, and now we have it and can't think of a better way to debut in America."
Momofuku's new project at Hudson Yards will span over 5,000 sq. ft. and will draw influence from all over the world, including the United States, Korea and Japan. The restaurant will feature a more formal dining room as well as a new takeaway concept.
David Chang, chef and founder said, "Hudson Yards is a story of transformation. I think we need to do things a little bit differently and have bolder, bigger visions. This is exactly what Hudson Yards is to me. I think it's going to have a world-class food program and I'm really honored to be part of that."
Juan Santa Cruz is an internationally acclaimed entrepreneur, restaurateur, designer and developer, behind some of the world's most acclaimed venues including Casa Cruz and Isabel in London and Buenos Aires.
Juan Santa Cruz said, "I'm excited to deliver a great experience, food and service to the people who will live in, work at or visit Hudson Yards. It is an honor to be part of this entirely new neighborhood and be among the luminaries that have been attracted to this crisp and futuristic vision for Manhattan's West Side and New York City as a whole."
Chef Michael Lomonaco, chef and restaurateur behind Porter House Bar and Grill and Center Bar, is bringing a new concept to Hudson Yards that is all at once comfortable, accessible and inventive, and represents the distinct energy and flourishing creativity of the people living and working in Hudson Yards. It will be distinctly American – well-sourced ingredients of the highest quality, prepared each day, where the community can gather to eat again and again.
Chef Michael Lomonaco said, "As a native New Yorker and a proud New York chef, I'm honored to take part in this reinvention of the city that starts with Hudson Yards. We're about to enter a new period of creative excitement across all industries, and that innovation will be celebrated in our food and at our restaurant. From the industrial rail yards a new rhythm and energy will emerge that is distinctly New York, and in that, distinctly American. Being involved in Hudson Yards is more than just a career achievement, it's a legacy moment. It truly feels like something I've been working towards over the course of my entire career."
Hudson Yards is an entirely new neighborhood on Manhattan's West Side, the largest private development in the United States and comprises more than 18 million square feet of mixed-use development. Developed by Related Companies and Oxford Properties Group, it will include over 100 shops and restaurants, including New York City's first Neiman Marcus and signature restaurants and diverse eateries; approximately 4,000 residences; 14-acres of public open space; a new 750-seat public school and an Equinox® branded luxury hotel with more than 200 rooms – all offering unparalleled amenities for residents, employees and guests.
Ten Hudson Yards – home to Coach Inc., L'Oréal USA, The Boston Consulting Group, German software engineering firm SAP, VaynerMedia, Intersection and Sidewalk Labs – opened in May of 2016. Sales for the 285 residences at 15 Hudson Yards have commenced. Fifty-Five Hudson Yards, home to Boies, Schiller & Flexner; Milbank, Tweed, Hadley & McCloy LLP; Point72; and MarketAxess will open in 2018. The one-million-square-foot Shops and Restaurants at Hudson Yards and 5-acre Public Square and Gardens and Vessel by Heatherwick Studio will open along with 30 Hudson Yards, home to KKR, Wells Fargo Securities, Time Warner, CNN, HBO, Turner Broadcasting, Warner Bros., and DNB Bank, and the site's mixed-use tower, 35 Hudson Yards.
For more information on Hudson Yards please visit www.HudsonYardsNewYork.com.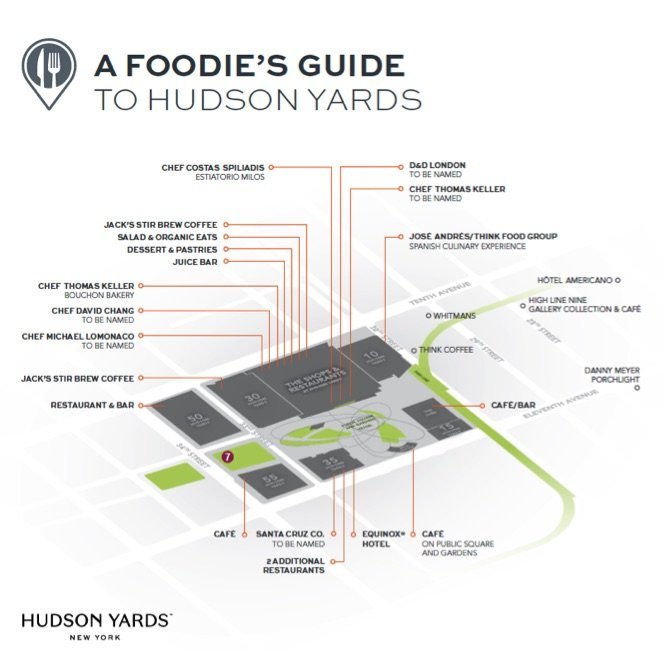 #####
ABOUT RELATED COMPANIES:
Founded more than 40 years ago, Related Companies is a fully-integrated, highly diversified industry leader with experience in virtually every aspect of development, acquisitions, management, finance, fund management, marketing and sales. The company has $50 billion of real estate assets owned or under development including best-in-class mixed-use, residential, and retail, office, trade show and affordable properties in premier high-barrier-to-entry markets. Headquartered in New York City, Related has offices and major developments in Boston, Chicago, Los Angeles, San Francisco, South Florida, Washington, D.C., Abu Dhabi, London and Shanghai, and is well-known for having developed the 2.8 million square foot Time Warner Center in New York City and the 72-acre CityPlace in West Palm Beach as well as being a leader in green building. For more information, please visit www.related.com
ABOUT OXFORD PROPERTIES GROUP:
Oxford Properties Group is a global platform for real estate investment, development and management, with approximately 2,000 employees and over $40 billion of real estate assets that it manages for itself and on behalf of its co-owners and investment partners. Established in 1960, Oxford has regional offices in Toronto, London and New York, and the company's portfolio includes approximately 56 million square feet of office, retail, industrial, multi-family and hotel properties. Oxford is the real estate arm of OMERS. For more information, please visit www.oxfordproperties.com
###
CONTACT:
Related Companies:
Joanna Rose
212.801.3902
[email protected]
[email protected]